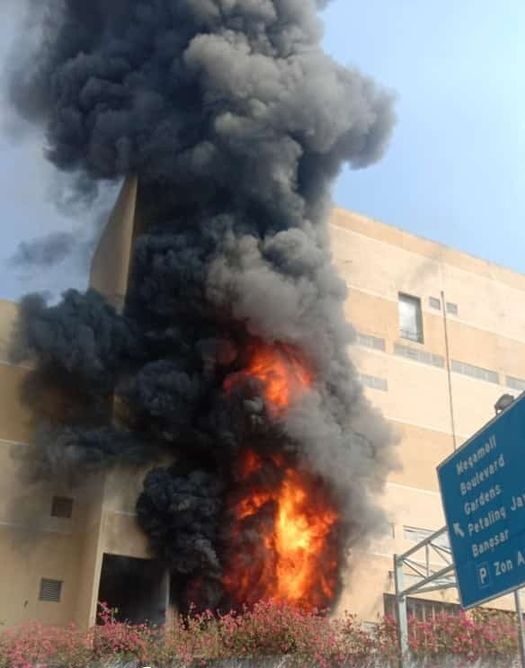 A fire broke out inside the Mid Valley Megamall Shopping Centre here on 17 May 2023, sending thick black plumes of smoke billowing into the sky.
Several videos and photos of the fire are being circulated on social media.
Eyewitnesses reported seeing thick smoke engulfing the structure, obstructing visibility.
A Fire and Rescue Department spokesperson when contacted said the department has received a call on the fire and were working on extinguishing the flames.
The spokesperson added the blaze occured at a Tenaga Nasional Berhad electrical substation located at the mall.
Below is the statement from Mid Valley megamall posted on their FB.
NCIDENT AT MID VALLEY CITY, KUALA LUMPUR, Wednesday, 17 May 2023
The management of Mid Valley City would like to confirm that an incident occurred at our premises earlier this morning.
Details: A fire broke out at the external TNB Substation, Mid Valley City, and was subsequently contained by Emergency Response Team. Members of the Malaysian Fire and Rescue Department arrived at the scene at 10.42am to subdue the fire.
As of 11.38am, we can confirm that there have been no injuries or casualties reported. The Malaysian Fire and Rescue Department are currently on scene conducting all necessary investigations and securing the premises with no further disruptions to the mall operations. In prioritising the safety of all present, a temporary disruption to power supply will be implemented until authorities authorise its restoration.
Mid Valley City will be closed until further notice. We sincerely apologise for any inconvenience caused and would like to reiterate that the safety of our shoppers and guests remains our top priority. #midvalleynow #midvalley