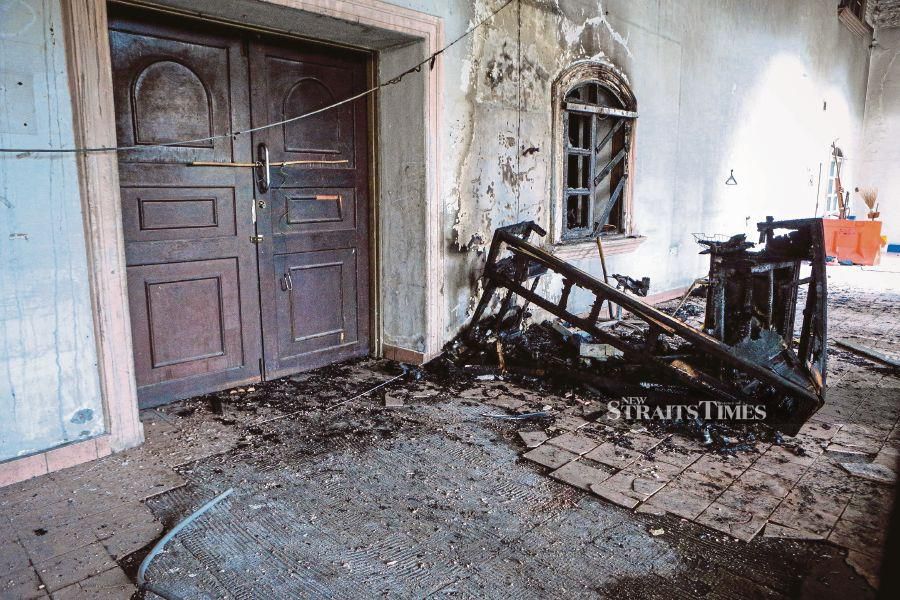 Conservationists fear a catastrophic fire is waiting to happen after a table in the corridor of the Old Sanitary Board and Town Hall building at Dataran Merdeka was destroyed on Saturday morning.
They said the fire, which charred a window, was a wake-up call for the authorities to secure and conserve the cluster of iconic buildings that were mostly vacant and decaying for around a decade.
International Council on Monuments and Sites Malaysia board member Elizabeth Cardosa said all four buildings — the conjoined complex of Panggung Bandaraya, the Old FMS Survey Office and the defunct board's former headquarters, together with the Old High Court Building opposite them that is linked by extensions — could have gone up in smoke on the second day of Chinese New Year.
"This should be a wake-up call. We could be looking at a pile of rubble now where the four buildings stand."
She said losing any of those historic buildings that were part of the ensemble of 12 or so icons constructed between the turn of the 20th century and the 1920s under colonial rule would cause gaps in the city's enduring landscape and character.
Cardosa said these buildings were prone to fire as their domes and finials were made from timber and bitumen.
"Since these buildings are made of mostly timber, they are more vulnerable to fire.
"These vulnerabilities are what we are concerned with, especially if the timber is damaged and deteriorating because they are not being looked after.
"The domes, for instance, are being held up by ring-beams. Imagine if the structure collapses or the dome lands on someone's head."
Cardosa said these buildings were also exposed to vandalism as they occupied a large compound that had many entries and were not secured well.
"First, they have to shore the buildings up physically so there is no encroachment."
She urged authorities to put in place a management and maintenance plan for these buildings to preserve their historical value and boost safety features.
"This has to be done fast because as time goes and the building deteriorates, additional repairs have to be done and this would cost more," she told the New Straits Times.
Meanwhile, City Hall's project Implementation and Building Maintenance Department director Norzaini Noordin said the authorities were getting the paperwork and access to the buildings from the Tourism, Culture and Arts Ministry to gain full custody of them.
"When we go in, we will clean up the place and do urgent repairs. We will then get a dilapidation report done so that we can identify other issues that need to be addressed," she said.
Last year, Kuala Lumpur Mayor Datuk Nor Hisham Ahmad Dahlan told NST that the four-building complex had been handed to City Hall by the Tourism, Arts and Culture Ministry and RM120 million would be spent on their upgrade.
On the recent fire, Norzaini said the Fire and Rescue Department was investigating the incident and it would ascertain whether a burning cigarette butt, a short circuit or other factors had caused the fire.
The department reportedly said the fire was probably caused by a fire lit by workers to drive away mosquitoes.
The Malaysian Institute of Architects' (PAM) Heritage and Conservation Committee head Steven Thang said this was not the first fire that had struck the complex.
In 1992, the interior of Panggung Bandaraya was destroyed by fire.
"There must be ownership and responsibility by all parties involved. This is not a joke. We cannot dismiss the incident just because there was minor damage or no one was hurt. Next time, we will not be so lucky," he said.
He also said fires could happen when people were around, citing the Notre-Dame fire in France.
In 2019, the medieval cathedral caught fire, destroying the 850-year-old Gothic building spire and the oak roof beams supporting the lead roof.
Thang said: "It's high time they got their house in order as the buildings are suffering as a result of neglect and decay."
He reiterated his call for the authorities to set up an advisory board to oversee the RM120 million revival plan, saying PAM was willing to offer its services for free to study their updated dilapidation report and conservation management plan.
"We need to know what the RM120 million will be used for, how will it be allocated and what comes first in terms of buildings or repairs."
He also said the board should comprise various stakeholders, including tourism players.
Source: NST