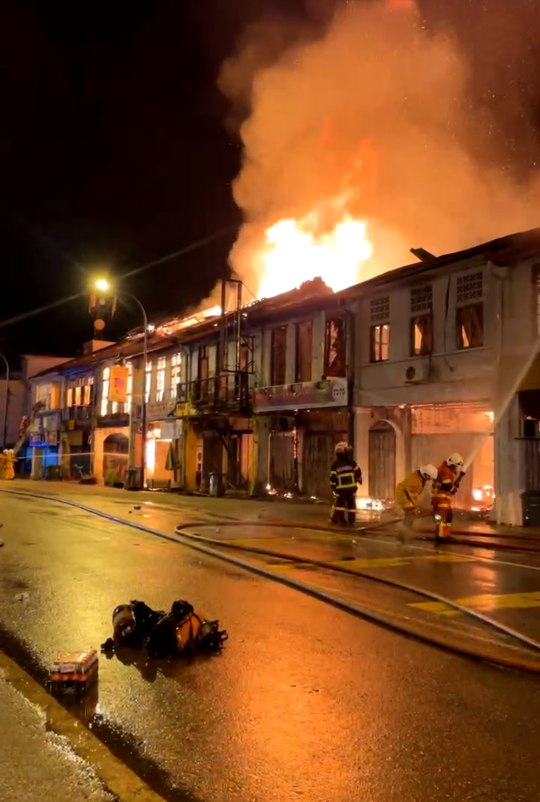 BENTONG: Fire destroyed 75 houses and 11 shops in Kampung Baru Karak near here last night. (1 October 2021)
Sabai assemblyman Kamache Doray Rajoo said the incident is believed to have started at about 9pm before it was finally brought under control earlier this morning.
"About 150 victims who were occupying the premises managed to vacate in time and no deaths or injuries were reported.
"The Kampung Baru Karak settlement consists of wooden and brick houses while the shops were mostly wooden units which have been around for more than 50 years," she said when contacted.
Meanwhile, a Fire and Rescue department spokesman said they were alerted to the incident at about 9.15pm and managed to bring the fire under control at about 1am.
"Firemen and assets from Bentong, Mentakab, Temerloh along with Volunteer Fire Department (PBS) teams from Pelangai and Mempaga were deployed. Most of the premises were about 95 percent damaged," he said.
It is learnt that efforts to put out the fire at the settlement where the premises were closely connected along a narrow road were hampered by low water pressure.
Pahang Fire and Rescue Department director Wan Mohammad Zaidi Wan Isa said the lack of water caused setbacks to the firemen's job and required more time for them to bring the fire under control.
"Yes, there was low water pressure and supply interruptions. We overcame the problem with the assistance from the Fire and Rescue Department's water tanker.
"It was quite tough to control the fire as the houses were located close to each other, resulting in the fire spreading fast also the change in the wind direction was another challenge," he said when replying to allegations that low water pressure had resulted in firemen taking longer time to bring the fire under control.
On investigations to determine the cause of the fire, Wan Mohammad Zaidi said the department's forensic team and K9 (dog) unit were looking into all aspects at the scene, including the possibility of the incident sparked by a short circuit.
"There are claims that the fire might have started from an empty barber shop. There might be wiring issues as the buildings have been around for between 30 and 40 years," he said.
quickly, Wan Mohammad Zaidi replied it was still too early to comment but the department will leave no stones unturned.
He said the department received a distress call at 9.20pm before 52 firemen in 10 engines were rushed to the scene. They brought the fire under control about 1am.
However, there were no reports of casualties in the fire which broke out at about 9.10pm
Source: NST